Amazing Design Ideas for an Indian Living Room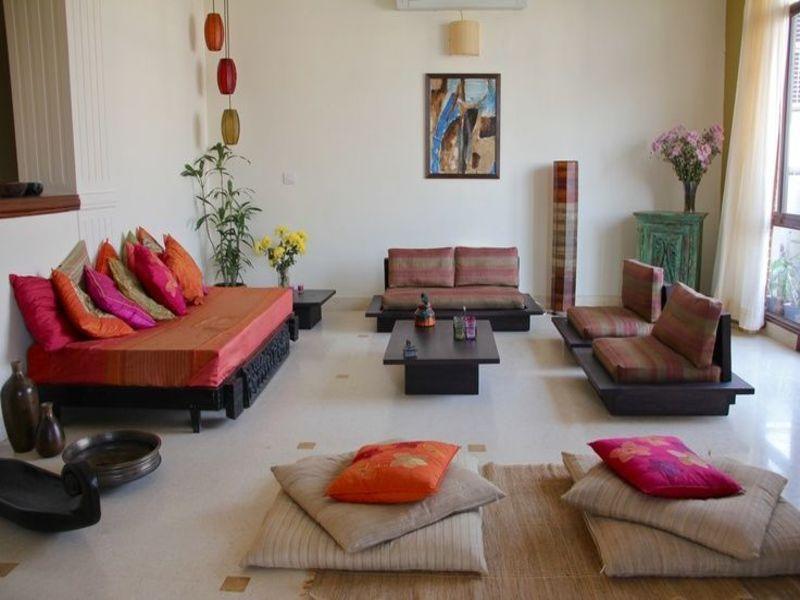 A typical Indian Living room is a space which oozes warmth, love and hospitality -the trademarks of Indian culture.Earthy hues blended with bright and bold shades are the hallmarks of this space. Its also popular as a space to express our aesthetic sense with a display of artworks and souvenirs. Modern living spaces in Indian households are a combination of traditional and  contemporary interior designs blended  or juggled intricately by decorators. Today, lets have a quick look at what goes into the living room to render it a quintessential Indian essence.
The Basics
Reds, mustard yellows, browns are popular shades in Indian interior aesthetics. Traditional blend is usually added with antique pieces or souvenirs. Ethnic patterns on the fabrics and furnishings are an inseperable element, when opting for an Indian look.It could be accentuated further by artworks like  classical paintings on the wall  or art forms like Warli art.
However, if you are restricted by space then going for a purely traditional look would not be advisable as it could give a cluttered look to your living space. In this case you need to opt for a creative contemporary aesthetic interior by including Indian elements in a lighter backdrop. A smaller sized artwork,using motifs and ethnic patterns on cushion covers would be a great substitute . Using glass to amplify the space , natural hues, minimal use of artefacts and décor, blending the old and the new syles and most important of all decluttering the living space and high lighting only the essentials would give that chic Indianness to your small living room.
All About Indian Living Room Furniture and Colours
The  perfect furniture  for an Indian living room decor includes wooden pieces, such as sheesham or rosewood sofas. Use a darker shade, if you have a spacious living room or else its better to stick to the lighter versions of these wooden furniture.
Traditional Diwans are an inseperable element of Indian living spaces, so also is the "jhoola",  of course, if you have the space to do so. These components add the lustrous look which any visitor to your home would fall for.
Speaking of colours,Indian tradition  is best reflected  when bolder palettes are used in combination with a lighter colour. 
The most crucial thing here is to practice moderation. If you want aesthetic Indianness or a contemporary style, it needs to be done with great caution. Bold shades ,for instance, can just be used as highlighters. Ethnic prints, motifs and traditional pieces of furniture should blend well lest it ends up in a disastrous chaos .The artwork displayed in the living room, needs thoughtful consideration.It does so much to your living space and reflects your inner style and allows you the liberty to coordinate it with the other pieces of furniture, be it the carpet or throw away cushion.
Adding a touch of greenery can also go a long way in accentuating the traditional or contemporary look. In short, try to achieve a harmonious, seamless collaboration of artwork, furniture, colours , lighting and greenery.
Keeping in perspective the above aspects, it would be apt to emphasize the fact that functionality is the key. Whatever furniture you buy, it should not only look great but serve a purpose.
For instance, a chic, classy Sheesham side table  behind the sofa is an awesome way to add great functionality and dimension to the use of space. Multiple items can go on top of a perfectly shaped table. Whether your sofa is up against a wall or in the middle of a room, just by adding a side table next to it or behind it enables you to add a cute décor, an indoor plant, a lamp,a stack of books or magazines etc . So also having an ottoman or a coffee table, the size of which should be dictated by the size of your living room , is a must have functional piece. So, its essential to do away with unnecessary adornments. The reason why functionality continues to rule and is gaining in popularity is that irrespective of your decorating style, it serves the purpose of simplicity, durability and minimalism.
All said and done, the truth is easier than you think since by opting furniture with the right proportions and neutral colours, it is possible to create an irresistible design . To sum up, if you are giving a makeover to your living room or you are starting from scratch, these significant ideas will help you create your own signature living space. We, at Duraster are at your service with our innovative design ideas for your living room.